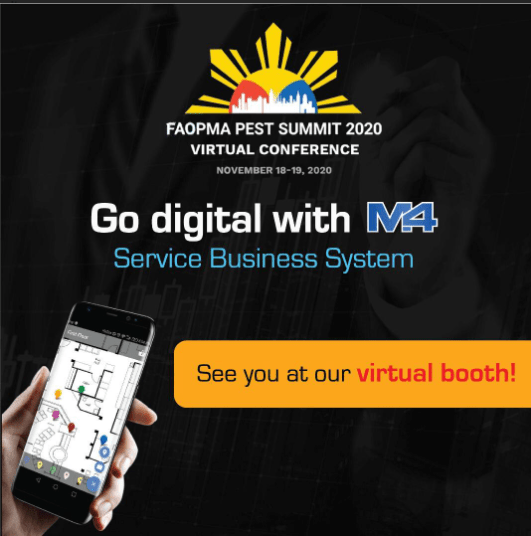 In a matter of days, FOAPMA Pest Summit 2020 will be hosting the conference on 18-19 Nov 2020. The Covid-19 pandemic is the reason many pest control businesses has been threatened. As the pandemic gets more daunting, Datum is ready to help your company through the Covid-19 pandemic. It's time for pest control operators to turn to the Datum ClearMind's integrated system, M4 to streamline their businesses.
Datum has engineered M4, a web-based design ideal for Pest Control Businesses. M4 checks all the boxes from scheduling to billing and handles most workflow within a pest control company. M4 has all the best systems required to take your service to the next level. Although FAOPMA is held virtually this year, the service brought to you will be done personally as Datum invites pest control operators to digitise their business and take it to the next level.
M4 is a clear product for pest control businesses to get through their hurdles. Datum is the best partner for pest control businesses as we are an approved Technology Service Provider appointed by MDEC. MDEC allows for clients to receive a 50% matching grant of up to 5,000.00 for each SME and is only applicable to the first 100,000 applications only. You can visit Datum's booth on 18 November from 10am to 5pm and on 19 November from 9am to 5pm.
We would encourage pest control operators to visit our virtual booth for more information on M4. There we will discuss about how to get ensure your business runs smoothly with M4 despite this pandemic and yes, it is possible. So, what are you waiting for? Come visit us. Go to https://faopma-ps2020manila.org/home and register yourself and visit our